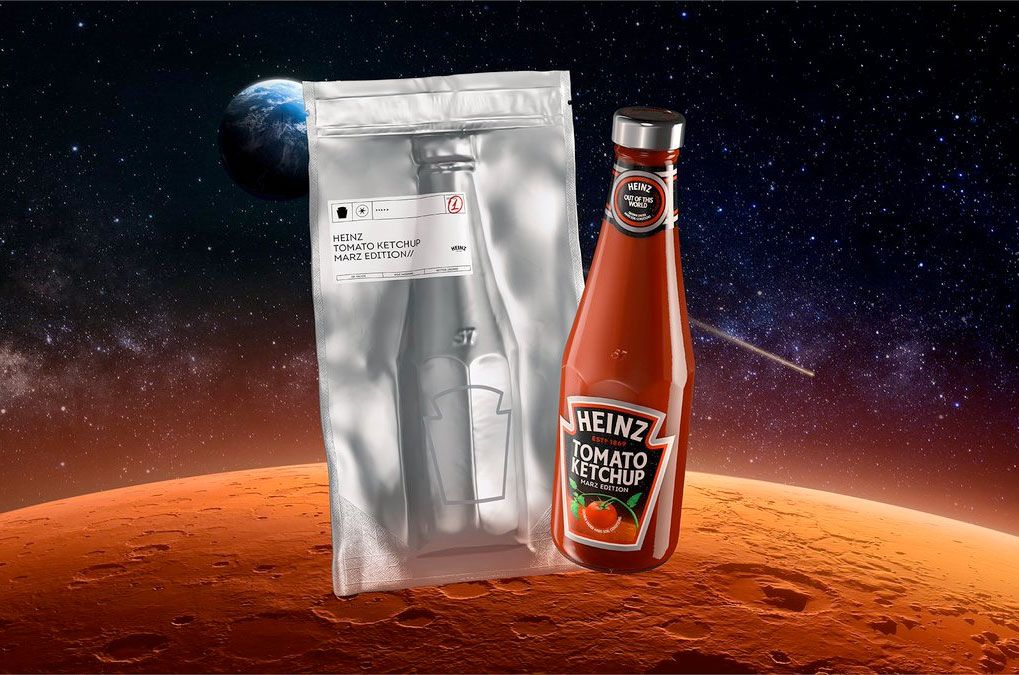 Good news, future Mars' explorers! When humans set up camp on the Red Planet, they will be able to flavor their foods with a Mars-grown version of Earth's best-selling red condiment.
Heinz on Monday (Nov. 8) revealed its first bottle of "Marz Edition" ketchup, a sauce made from the same premium-quality tomatoes as used in its popular Earth-based edition, but grown in the same harsh conditions as found on Mars. More than just a new label, the Mars-ready condiment is the product of two years of research conducted by a team of astrobiologists at the Florida Institute of Technology's Aldrin Space Institute.
"We're so excited that our team of experts have been able to grow tomatoes in conditions found on another planet and share our creation with the world," Cristina Kenz, chief growth officer for Kraft Heinz International Zone, said in a statement. "From analyzing the soil from Martian conditions two years ago to harvesting now, it's been a journey that's proved wherever we end up, Heinz Tomato Ketchup will still be enjoyed for generations to come."
Photos: Space Food Evolution: How Astronaut Chow Has Changed
Although not available for purchase, a batch of the Marz Edition ketchup was unveiled at Heinz' headquarters in Pittsburgh, where the experimental sauce passed the company's quality tests to be approved to become certified bottles of Heinz Tomato Ketchup.
The 14-member team at the Aldrin Space Institute, led by Dr. Andrew Palmer, has submitted the first of three papers for scientific publication that charts the Heinz mission. The institute, which was founded in 2015, was created to advance a permanent human presence on Mars and maintain the scientific and technical legacy of Apollo 11 astronaut Buzz Aldrin, one of the first people to walk on the moon.
"Before now, most efforts around discovering ways to grow in Martian-simulated conditions are short term plant growth studies," said Palmer at Florida Tech. "What this project has done is look at long-term food harvesting."
"Achieving a crop that is of a quality to become Heinz Tomato Ketchup was the dream result and we achieved it. Working with the 'Tomato Masters' at Heinz has allowed us to see what the possibilities are for long term food production beyond Earth," he said.
Related: Astronaut makes zero-g tacos with 1st chile peppers grown in space
To demonstrate that the tomatoes could be harvested on Mars, the plants were grown in Martian simulant — Earth-based soil chemically matched to the Red Planet's regolith — under the same temperature and water conditions as found on Mars. Heinz and Aldrin Space Institute experts analyzed soil conditions, selected seeds and implemented agricultural techniques to ensure the end result was the recognizable taste of Heinz ketchup.
The research, which was one of the largest projects of its kind related to Mars, also has applications closer to home. If, as shown, the tomatoes can be grown off-planet, they can also be grown in more remote and harsh places on Earth.
"With regards to our own survival on this planet, one of the big questions is how do we grow in soils that are less than ideal," said Palmer.
In addition to studying Martian crops, the Kraft Heinz Company has invested in environmental social governance goals, including using 100% sustainably-sourced Heinz Ketchup tomatoes by 2025.
If and when astronauts produce Heinz ketchup on Mars, they will be continuing the brand's legacy of adding flavor to food on and off Earth. Heinz Tomato Ketchup has been available for years for the crews aboard the International Space Station.
"In space we have a saying, 'it's not about the food, it's about the sauce,'" said Mike Massimino, a former NASA astronaut, Heinz Tomato Ketchup Marz Edition ambassador and self-confessed Heinz ketchup superfan. "We could choose what food we wanted to eat up there, but lots of the dishes came dehydrated and a little bit bland, so a good dollop of sauce always made your meals delicious."
Follow collectSPACE.com on Facebook and on Twitter at @collectSPACE. Copyright 2021 collectSPACE.com. All rights reserved.