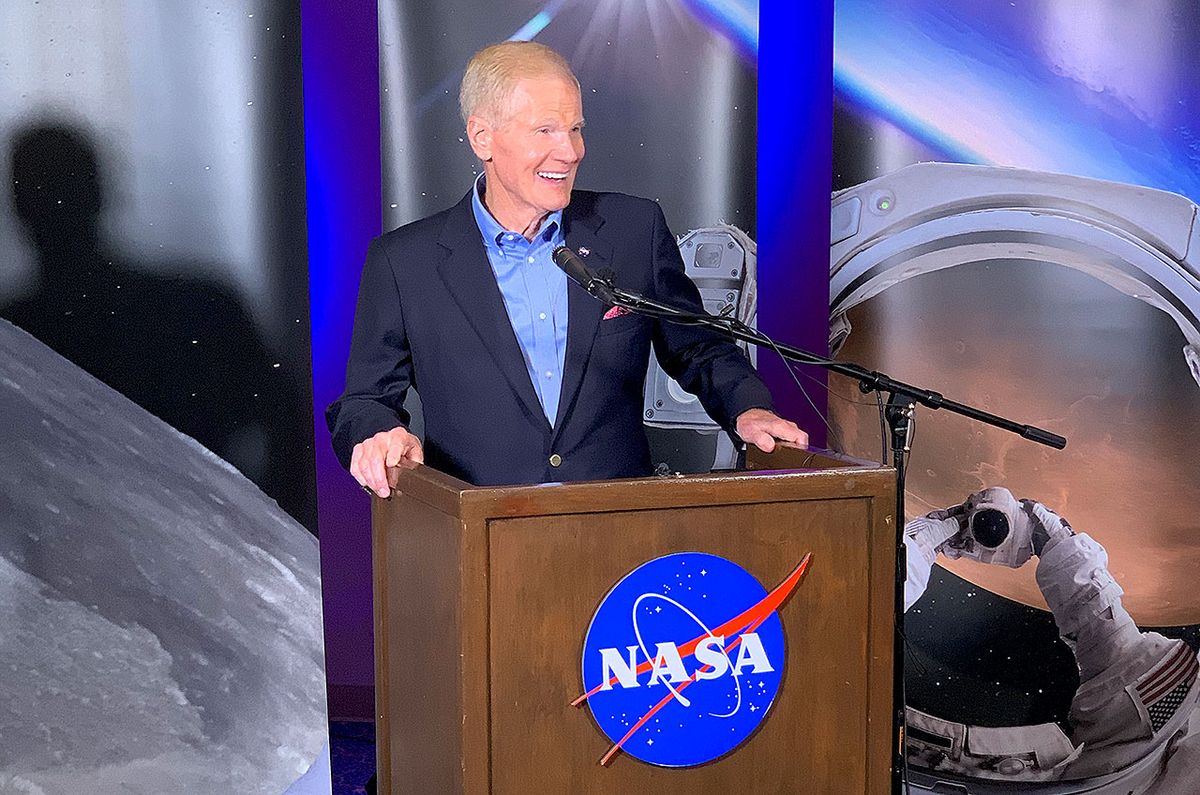 Bill Nelson's journey to the Johnson Space Center in Houston this week evoked recollections of his first go to to the house of U.S. human spaceflight greater than 35 years in the past.
Now a former senator and the present head of NASA, Nelson was a member of the U.S. House of Representatives when he first reported to Johnson in 1985. After a number of months of coaching, Nelson grew to become the second congressional observer to fly into Earth orbit, lifting off as a payload specialist on the final space shuttle mission earlier than the Challenger tragedy in January 1986.
"I had the privilege of spending some time here," Nelson told reporters at Johnson Space Center on Thursday (Sept. 2). "I discovered my fondness for chicken fajitas here."
"What are my thoughts as I come back to Johnson? I am ready to go down there and suit up," Nelson stated with fun.
Related: New NASA chief Bill Nelson brings a politician's eye to space agency
Part of his ongoing tour of the space company's discipline facilities since turning into NASA administrator in May, Nelson was joined by Johnson director Vanessa Wyche and NASA Deputy Administrator Pam Melroy, who additionally educated at Johnson as a former NASA astronaut and is one among solely two ladies to command the space shuttle.
"It is fantastic to be back here," stated Melroy. "Obviously, Johnson Space Center is known as being a key center for human spaceflight — the astronauts all train and live here. In addition to that, we are very proud of mission control as well, which is an additional gem in its own right."
Johnson Space Center oversees the operation of the International Space Station; growth of the Orion spacecraft and Gateway lunar outpost; and industrial low Earth orbit packages. It additionally serves as the first coaching facility for NASA's astronaut corps, who're at present getting ready for missions to the space station on industrial spacecraft and for flights aboard Orion as a part of Artemis missions to the moon.
Though a part of Nelson's go to included assembly Apollo astronauts Fred Haise and Walt Cunningham, in addition to Apollo-era flight director Gene Kranz, his focus was set squarely on the long run.
"We know that it is a entire new technology of explorers, and what we need to do is build on the shoulders of those that we met with right now, the Apollo technology," stated Nelson. "We need this to be the Artemis generation. We need this Artemis technology to soar, which goes again to the moon and on to Mars and to discover the heavens, and that is our supporting position."
On Thursday morning, Nelson and Melroy, in addition to members of the Houston congressional delegation, had the chance to speak with the crew on board the International Space Station from inside mission management.
"I just can't tell you how awesome it is to see all of you, just the wonderful diversity of all of the crew," Melroy stated, addressing the seven-person Expedition 65 crew. "I think one of the most special parts about helping to build the International Space Station was flying with all of our partners and learning their cultures, sharing food together and sharing hard work together."
In addition to a few American astronauts, a French astronaut representing the European Space Agency (ESA) and a JAXA (Japan Aerospace Exploration Agency) astronaut, Melroy and Nelson additionally spoke to the 2 Russian cosmonauts on board. Recent feedback made by Nelson's counterpart at Roscosmos, Russia's federal space company, have referred to as into query Russia's curiosity in remaining companions within the International Space Station and with NASA generally.
Nelson, nonetheless, stated he didn't see this as the start of the tip of Russia and the U.S. working collectively in space, a legacy that goes again to 1975 and the Apollo-Soyuz Test Project.
"To the contrary of ending, it's just continuing," Nelson stated, replying to a query from collectSPACE.com. "I believe in the conversations that I've had with [Roscosmos Director General] Dmitry Rogozin [that] we're going to have continued cooperation with them."
"They just put up a major module," he stated, referring to the Nauka multipurpose laboratory module. "If they were getting ready to abandon the space station, obviously they wouldn't have done that. And I can tell you that I have information that all the cosmonauts certainly want to keep the cooperation going."
"So I'm very encouraged in that, and just as soon as the COVID [pandemic] will allow, Pam and I are getting on an airplane and we're going to go see Rogozin," stated Nelson. "So I look forward to a very strong partnership with the Russians, and I hope that we will have a partnership with them at or around or on the moon."
Follow collectSPACE.com on Facebook and on Twitter at @collectSPACE. Copyright 2021 collectSPACE.com. All rights reserved.