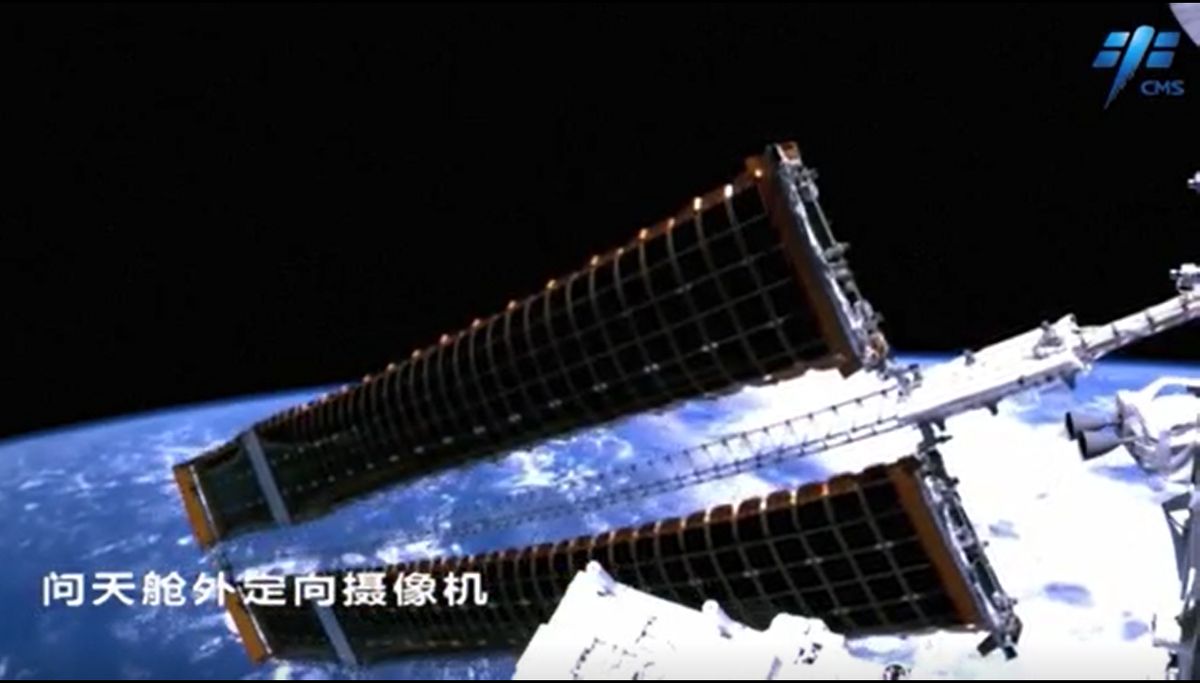 China's space station not too long ago gained a brand new module and with it a pair of big, solar energy-capturing "wings" that may rotate because the outpost orbits the Earth.
A new video from China's human spaceflight company, CMSA, reveals the big solar arrays rotating across the Tiangong space station as our blue and white planet passes under.
The arrays are a part of the Wentian experiment module, which launched in July. The angle of the panels may also be seen to vary to face the sun because the Tiangong space station continues alongside its orbit.
Related: China's Long March rocket family in photos
Wentian's two solar arrays are every almost 98 ft (30 meters) lengthy. Together they've a total wingspan of over 180 ft (55 meters). Each solar panel has a amassing space of about 1,184 sq. ft (110 sq. meters).
China plans to launch a 3rd and ultimate module to Tiangong in October. Called Mengtian, that experiment module may also carry a pair of enormous solar arrays just like these of Wentian.
Three Shenzhou 14 mission astronauts—who're at present aboard Tiangong and getting ready for a primary extravehicular exercise, or spacewalk, from the Wentian module—will greet the module.
The solar panels are designed to supply energy for the Tiangong space station which China plans to maintain completely inhabited by rotating crews of three astronauts for over a decade.
Meanwhile, the older, bigger International Space Station has solar arrays with a wingspan of 240 ft (73 meters) to energy its actions in orbit. 
When accomplished Tiangong might be round 20% as huge because the International Space Station, which has a mass of about 460 tons. 
Follow us on Twitter @Spacedotcom or on Facebook.