Scientists spot a brief but powerful 'micronova' stellar explosion, a Ukrainian moon startup gets its tech realigned for the military, and the Perseverance Mars rover readies for ancient-life searching at an ancient river delta. These are some of the top stories this week from Space.com.   
Newly found 'micronova' star explosion is brief, but likely common
The European Southern Observatory's (ESO) Very Large Telescope (VLT) spotted never-before-seen small thermonuclear explosions on white dwarf stars, which took place only over a few hours. It has large implications for stellar evolution, as these explosions are likely more common than we know. 
Full story: Pow! Scientists spot new 'micronova' stellar explosion
Ukrainian startup repurposes moon tech for military 
A Ukrainian space tech startup postponed its dream of going to the moon to counter the ongoing Russian invasion. Lunar Research Service was about to ship its first batch of nanosatellites to Kickstarter backers, but priorities changed rapidly after the Feb. 24 event. The company has now donated nearly 17,000 satellite batteries to the Ukrainian military to power flashlights, radio transmitters and other equipment.
Full story: Ukrainian moon start-up volunteers tech for military use
Perseverance gets to its Martian river delta destination
Perseverance has arrived safely at the remains of an ancient Red Planet river delta on the floor of the 28-mile-wide (45 kilometers) Jezero Crater, NASA announced April 19. Here is where the mission's hunt for ancient life will kick off in earnest, as the delta is suspected to have held water billions of years ago.
Full story: Perseverance rover arrives at ancient Mars river delta
These are the winners of future planetary science plans
A decadal survey of planetary science says planet Uranus deserves a flagship-class mission, which could cost $4 billion. The planet was first choice among six possible destinations, including the feasibility of the massive effort and the science potential in taking a look at an "ice giant" up close.
Full story: Here's where planetary science is going in the next decade
Artemis 1's 'wet dress rehearsal' delayed amid rollback
NASA needs to tweak its unflown Space Launch System (SLS) rocket before authorizing it for another attempt at a "wet dress rehearsal" launch countdown for the moonbound Artemis 1 mission, the agency determined. The agency will soon roll the rocket off the launch pad at the Kennedy Space Center to the nearby Vehicle Assembly Building. When the next test attempt will be is unknown, as the agency grapples with several technical issues.
Full story: NASA to roll Artemis 1 moon rocket off the launch pad early next week
Meteorite impact generated hottest-ever mantle rock
Scientists confirmed the hottest rock in Earth's mantle reached searingly high temperatures. Spotted from a meteorite impact about 36 million years ago in what is today Labrador, Canada, the fist-sized black glass rock was formed in temperatures reaching 4,298 degrees Fahrenheit (2,370 degrees Celsius), hotter than much of the Earth's mantle.
Full story: Massive meteorite impact created the hottest mantle rock ever
China sent 2 rockets aloft swiftly before taikonauts came back to Earth 
In just six hours, China launched two rockets from different spaceports during a busy manifest that included the successful landing of its longest crewed mission. First, a Long March 3B rocket lifted off from the Xichang Satellite Launch Center carrying the Zhongxing 6D communications satellites. Then, a Long March 4C rocket launched a new atmosphere monitoring satellite into orbit from the Taiyuan Satellite Launch Center. 
Full story: China launched 2 rockets back-to-back just ahead of astronauts' landing
Mars helicopter celebrates a year since its 1st flight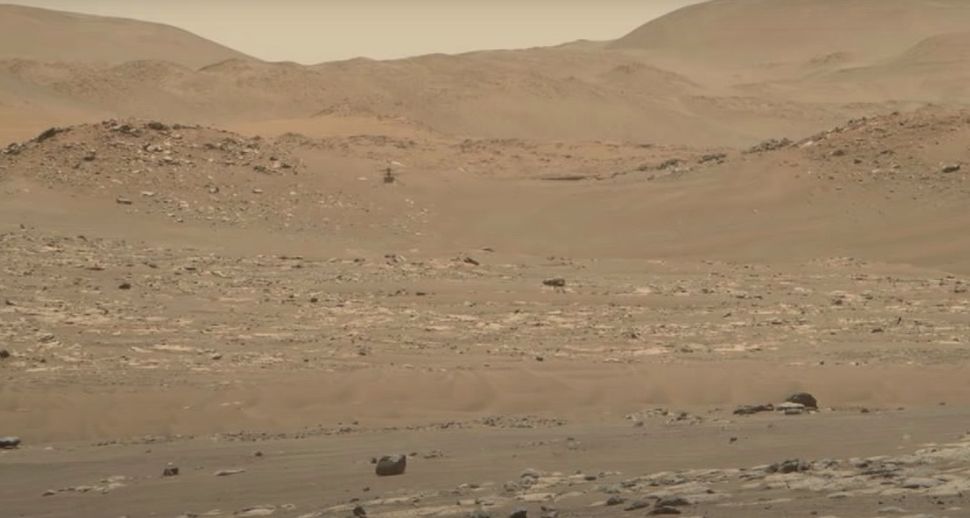 On April 19, the 4-pound (1.8 kilograms) Ingenuity made its first flight ever above the Martian surface, hovering 10 feet (3 meters) above the site named, appropriately enough, Wright Brothers Field. Now the plucky helicopter is at 25 flights and counting as it continues an extended scouting mission on Mars.
Full story: Happy anniversary, Ingenuity! Mars helicopter flew for the 1st time one year ago today
Fire research wraps up after lighting 1,500 flames in space
NASA wrapped up a nearly five-year-old fiery experiment this year. Investigators lit about 1,500 flames under six investigations on board the International Space Station, as a part of the Advanced Combustion via Microgravity Experiments, or ACME, project. There's more fire in store under a new set of experiments just installed in ACME's place, too.
Full story: Fire on the space station! Astronauts preparing ongoing combustion research.
New message to aliens shows Earth amid climate worries
The Goonhilly Satellite Earth Station in Cornwall, U.K., will broadcast a climate-change message on Oct. 4 to coincide with the beginning of World Space Week, which this year has the theme of "Space and Sustainability." The radio signal, designed to showcase Earth's climate crisis to alien life, will be beamed to the TRAPPIST-1 planetary system.
Full story: New message to aliens will reflect on Earth in danger of climate crisis
Follow us on Twitter @Spacedotcom and on Facebook.